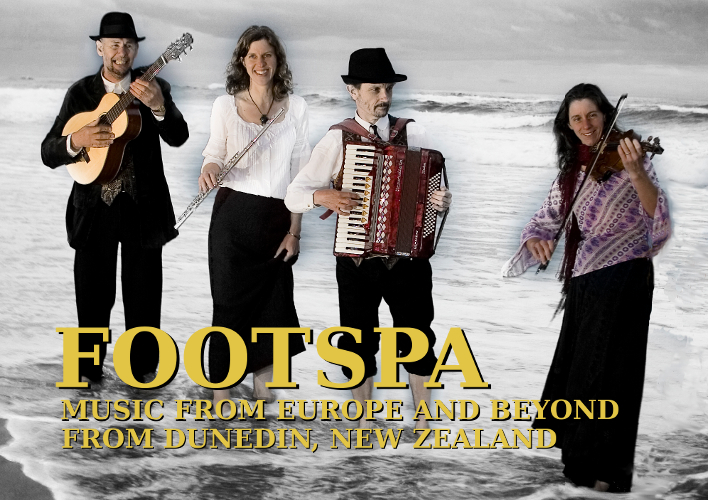 For your next folk festival, birthday function, wedding, conference or dance, try something new.
Playing guitar,Irish bouzouki,flute, piano accordion and violin, Sean Manning, Louise Frampton, Marcus Turner and Anna Bowen present a diverse and exciting repertoire including Bulgarian horas, Scandinavian polskas, French waltzes, Galician dantzas, Romanian invirtitas, Irish reels and Klezmer freylekhs.
Four highly experienced musicians from bands as diverse as The Chaps, Catgut and Steel, and The Half-legendary Men have joined forces to learn a new repertoire of songs and tunes from all over Europe, as well as music from the Jewish Klezmer tradition and some Turkish music.
This is music to dance to, dine to or just to listen to. Contact us to discuss a programme and a price.
CONTACT
To book Footspa, write to Marcus Turner at marcusturner(at)xtra.co.nz or phone +64 476 1330.
DOWNLOADS
Photographs of Footspa by Derek Morrison